Learn how I went from being a bored hotel employee to booking a Super Bowl commercial.

Hi! I'm Ben - and I've been in the voiceover industry for over 15 years. I do voice over for brands like:

With this course for beginners, you'll get a comprehensive, insider's view of the inner workings of the industry.
And you'll learn exactly what to focus on now - and what to prioritize on each step of your journey!
See what Sami has to say about her experience taking the course.

With This Course You Will Learn:
Exactly what voiceover is: I will dispel some of the common misconceptions beginners may have about the industry right at the top.
Equipment: Learn about recording gear and setting up your recording space. And how you can get started with an modest budget. 
Your Demo (voice reel): What it is, and why you need one. Plus an in-depth outline on two options to accomplishing this necessary task.
Finding and using YOUR voice: Useful and fun tricks for training your voice to do what you want - when you need it.
Easy ways to dissect a script and make it yours: Even if you don't totally understand what's on the page, you can give your best reads for all types of auditions and bookings.

Plus:
Voiceover agencies: What they do for voice actors and how to approach one.
How to be your own agent: How to go about it and the exact tasks you'll be doing to foster and further your own career.
Castings for voiceover jobs: I will show you how to audition both in-studio and from home, from start to finish. Plus an at-home audition workflow.
Voiceover bookings: What to do during your first recording session in a studio or from home.
Microphone technique: Simple tricks to ensure your recordings always come out clean and clear.
Exactly what to expect from contracts and paperwork: This part is very important! I go in depth and look at some of the legal terms that can have a big effect on your future work.
The difference between the Union and Non-Union voiceover work: Why it matters and how to gauge what's right for you.

This is what Michael has to say.

"The information was succinct, it was detailed enough - without being overwhelming. There was so much information that was shared I will be referring back to the course many times over. I'm walking away from this course feeling confident and excited about my journey in voice over. And I'm so excited to get my demo started. Thank you Ben!"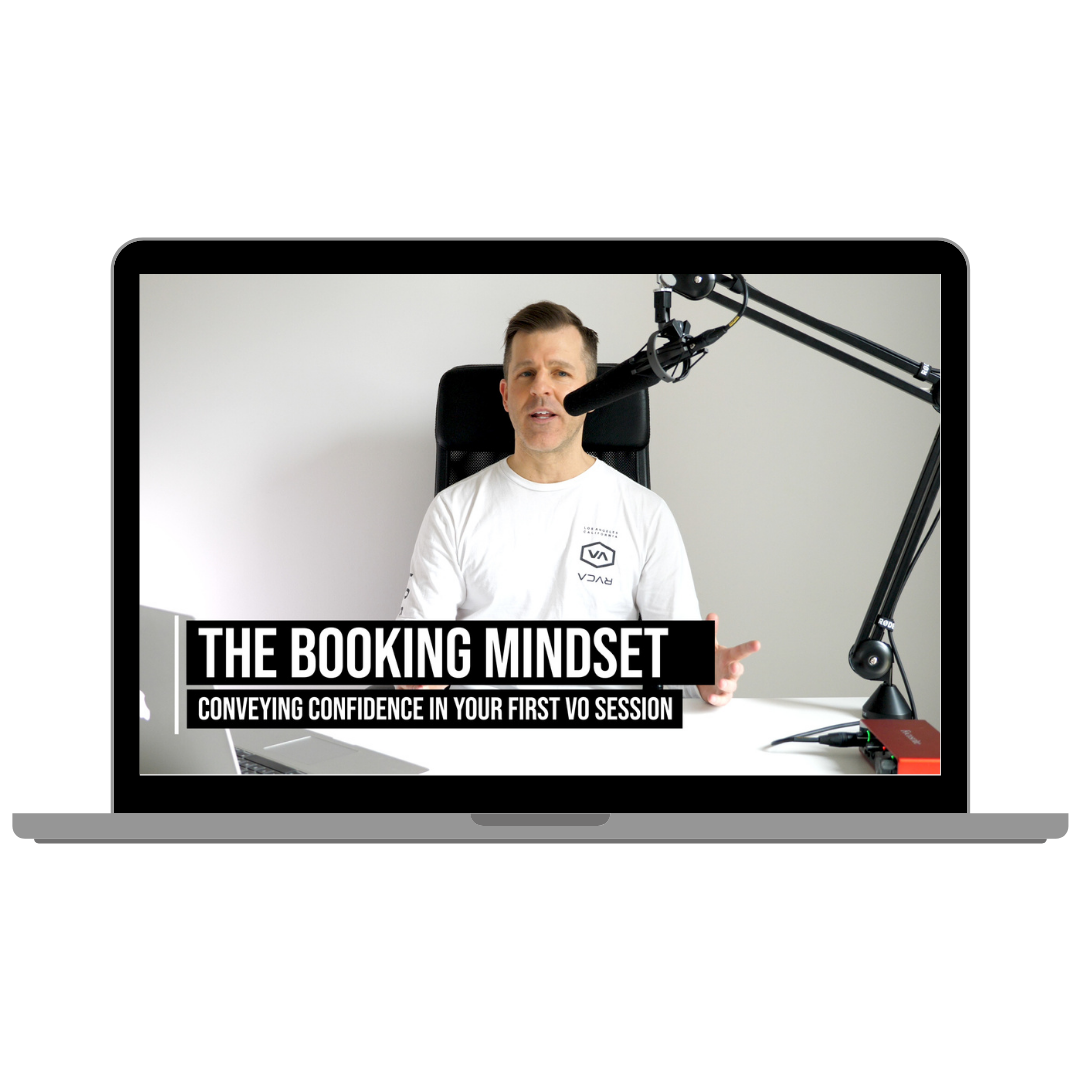 The Booking Mindset
How to convey confidence at voiceover bookings even if you don't feel it 100%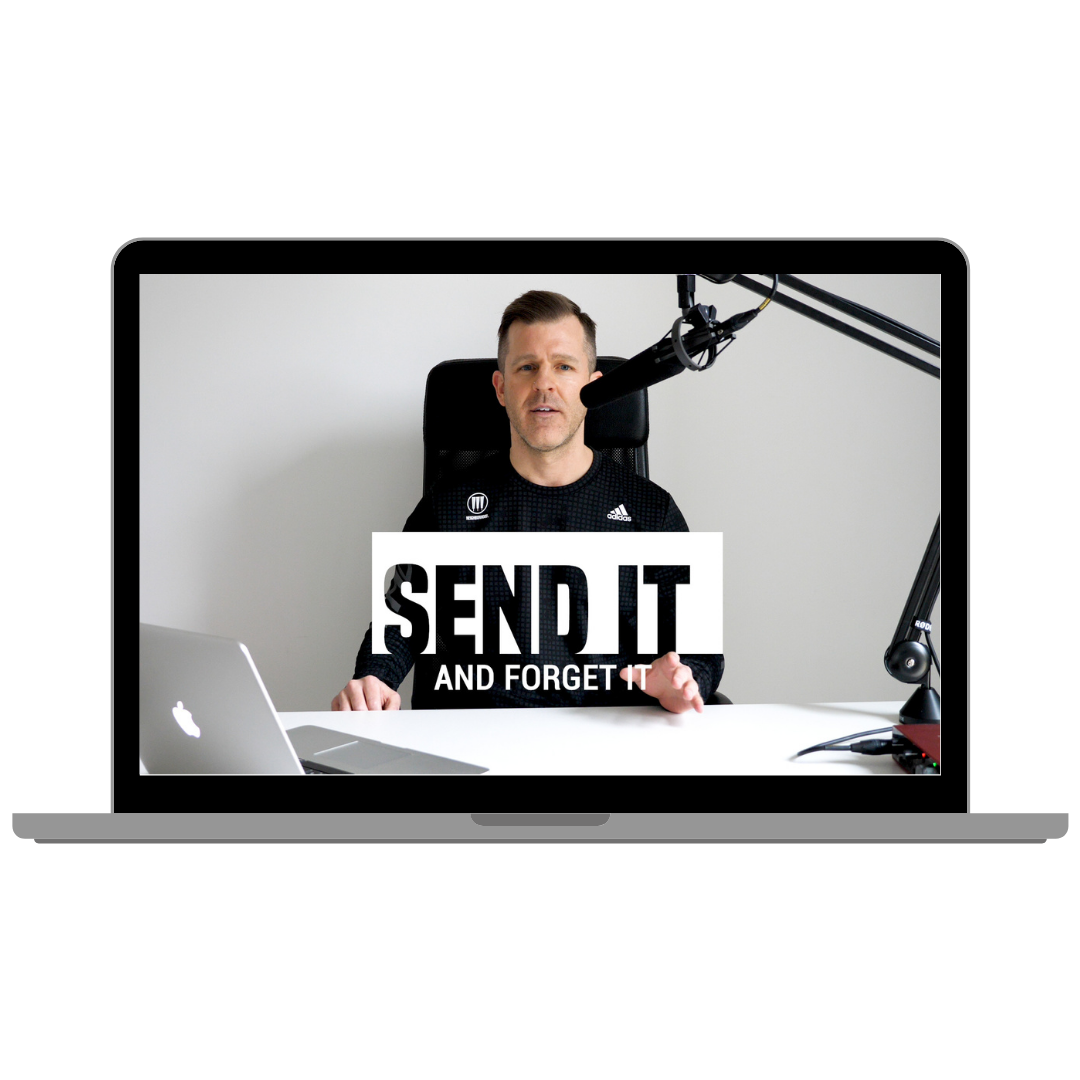 Learning to Live With Rejection
Rejection in VO is not personal - and we'll dive into more constructive uses of your energy.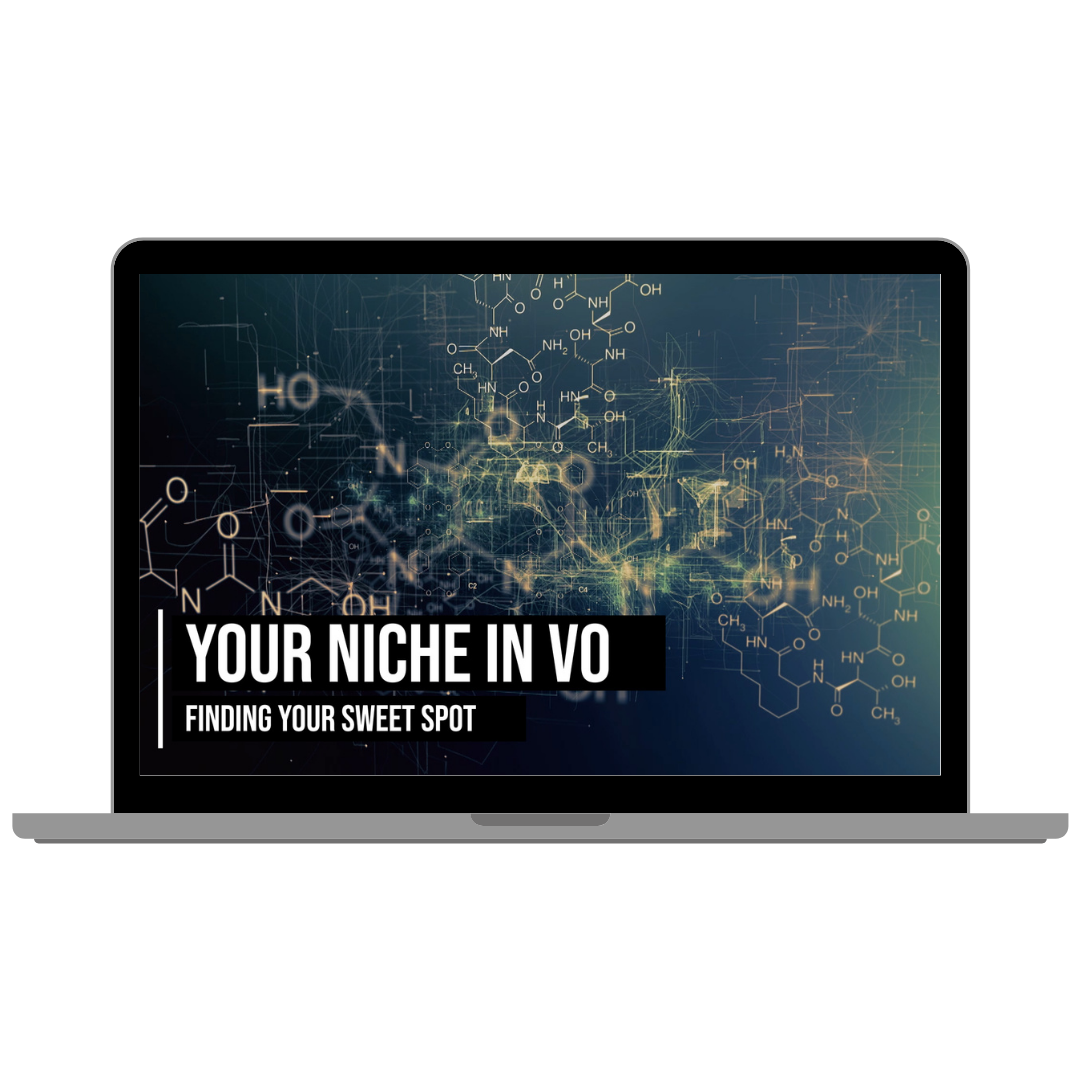 Eventually Finding Your Niche
Zeroing in on the types of VO you're really good at is important in the long run for steady bookings.
Plus, bonuses. FREE real sample scripts for you to practice with, a booking spreadsheet, and a voiceover work agreement you can personalize.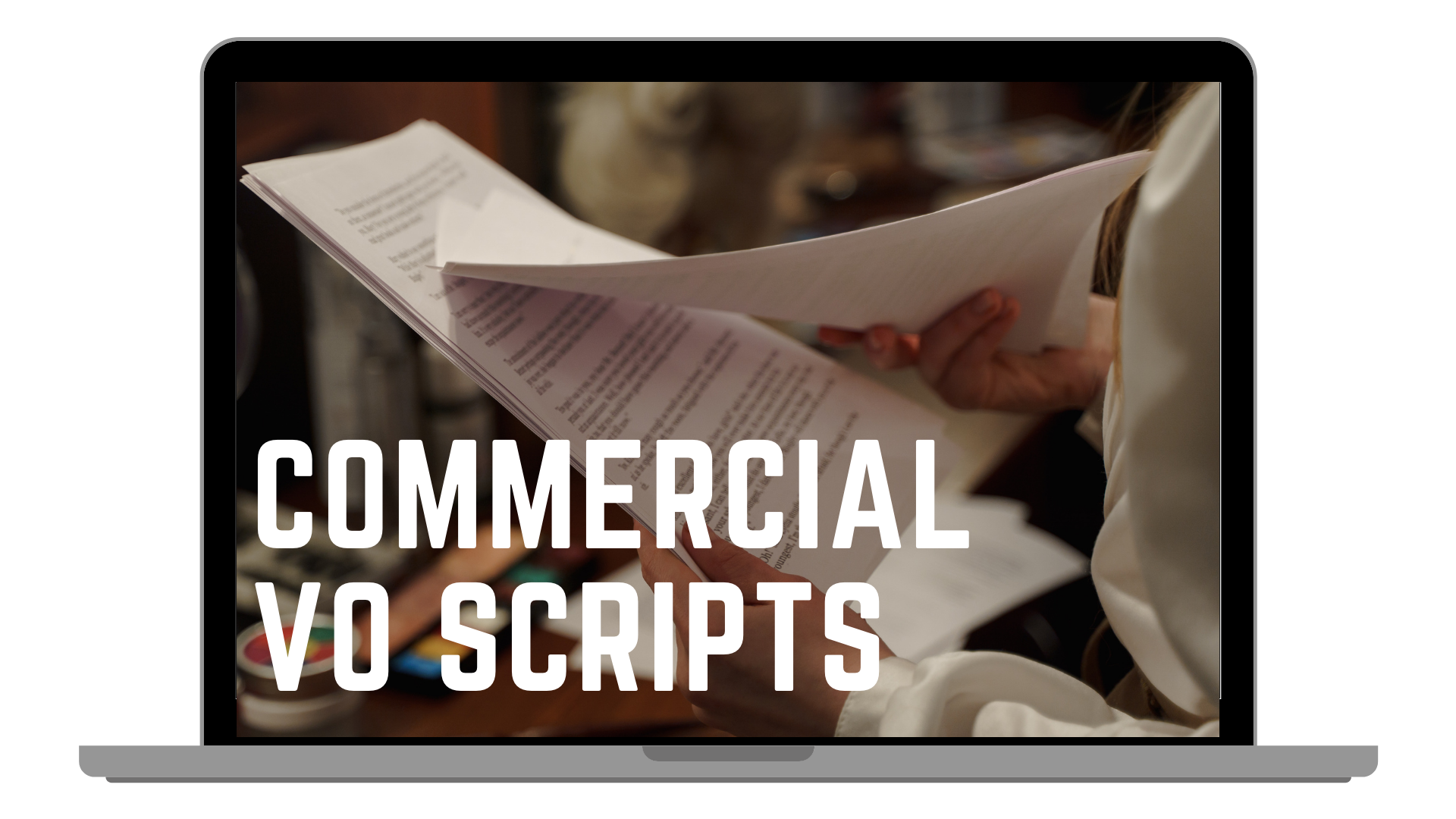 30 Voiceover Sample Scripts [Literally Priceless!]
Use these sample scripts for practice - and for recording your demo/reel. These are real commercial scripts from real projects.
When tracking down scripts for your reel, getting the writing is half the battle.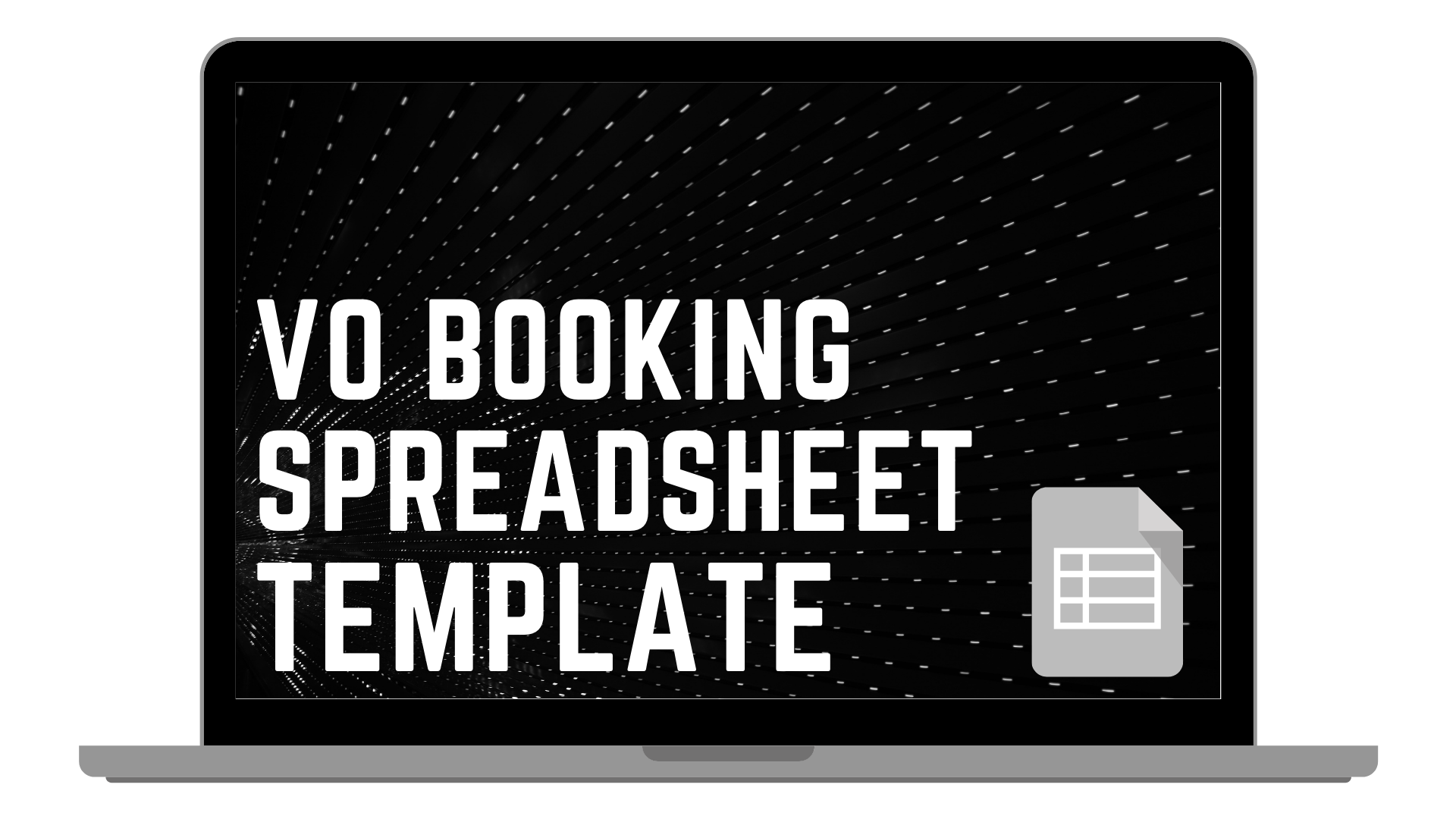 VO Booking Spreadsheet Template [$47 Value]
Use this spreadsheet to record key pieces of information for the voiceover jobs you book - so you can stay organized and ensure on-time payment in a hectic, fast-paced industry.
Remember, when you treat something like a business, it'll pay you like a business.
Keeping yourself organized is key when working with multiple clients.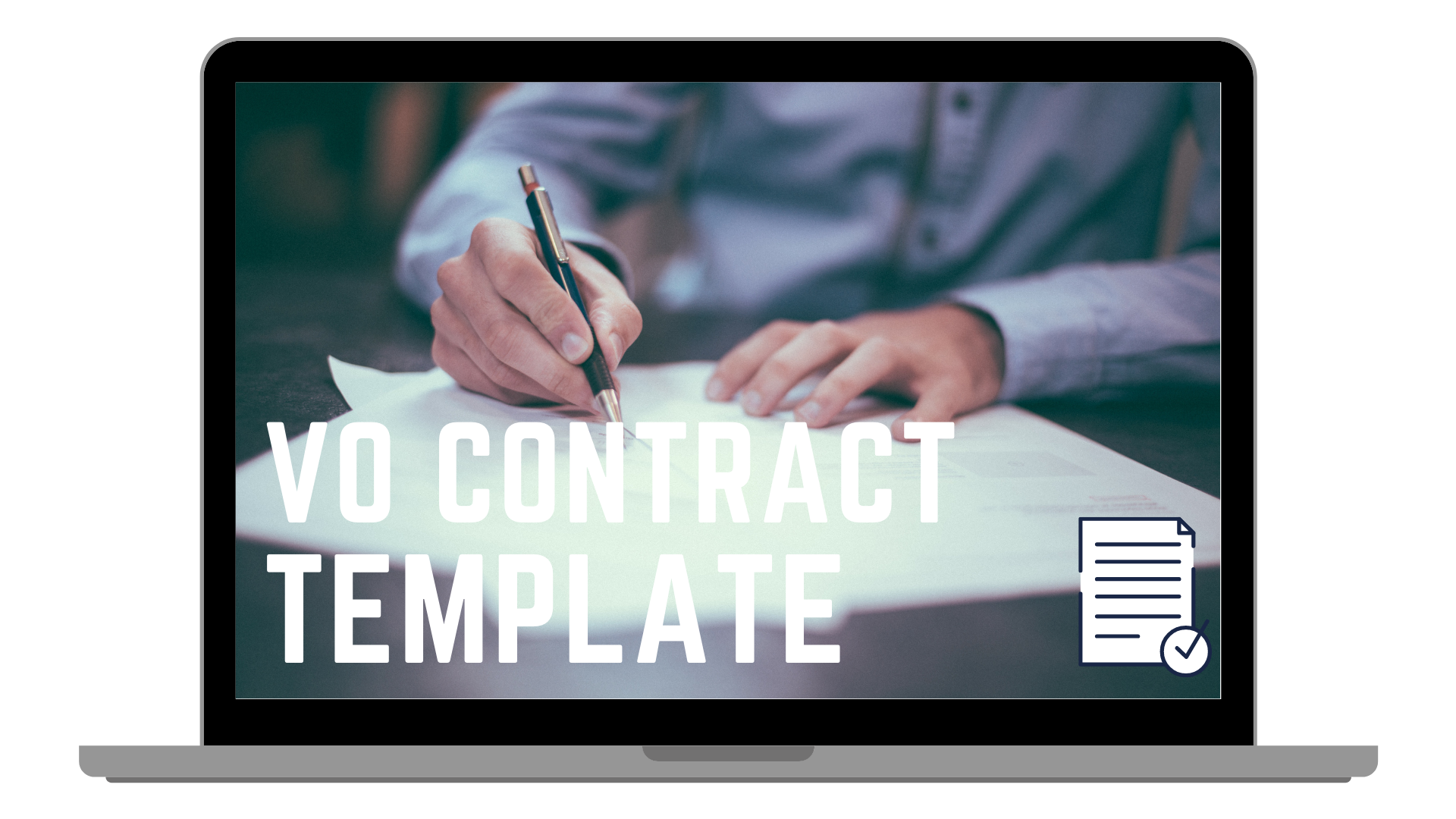 VO Contract / Work Agreement Template [$199 Value]
Most VO bookings come with client supplied contracts. Some bookings don't. When your clients don't have a contract, you don't have to just hope they'll honor their commitments and pay you on time. You can personalize this work agreement with your information + job specs. Just fill in the blanks and present to your client for their signature. When it comes to $$$, a little peace of mind goes a long way.
I have been doing voiceover work for the past 15 years, mostly in New York City. Before that I was a concierge at a well known hotel and hated my job with a passion.
I decided to take a voice over class after my wife begged me to, "do something with your life and stop complaining so much." I knew I found my calling as soon as that first lesson ended.


Sure, I struggled for the first couple of years, learning the ropes and how to control my voice. Eventually I started booking work, small to medium size jobs, and loved every session I recorded. Then one day I booked a Super Bowl commercial and was finally able to quit my hotel job.

Here's some of the work I've done:

When the pandemic hit, my wife and I moved to Des Moines, Iowa (where I'm originally from), to be closer to family.


I thought my career would be much quieter after leaving NYC but the industry changed quickly. Auditioning and recording jobs from home became the new normal.


To my surprise I ended up being just as busy for the 2 years I lived in the midwest!


We eventually packed our bags and moved to Los Angeles last year, this time to be closer to the sunshine. And not much has changed in the industry - I'm still busy doing voice over jobs from home or recording in professional studios in Santa Monica or somewhere in Los Angeles.
It's fair to say voiceover changed my life. I took some lumps - but I learned from my mistakes. And I'm excited to share all of it with you in the course for beginners!


BTW… This is the class I wish I had at my fingertips when I just got started.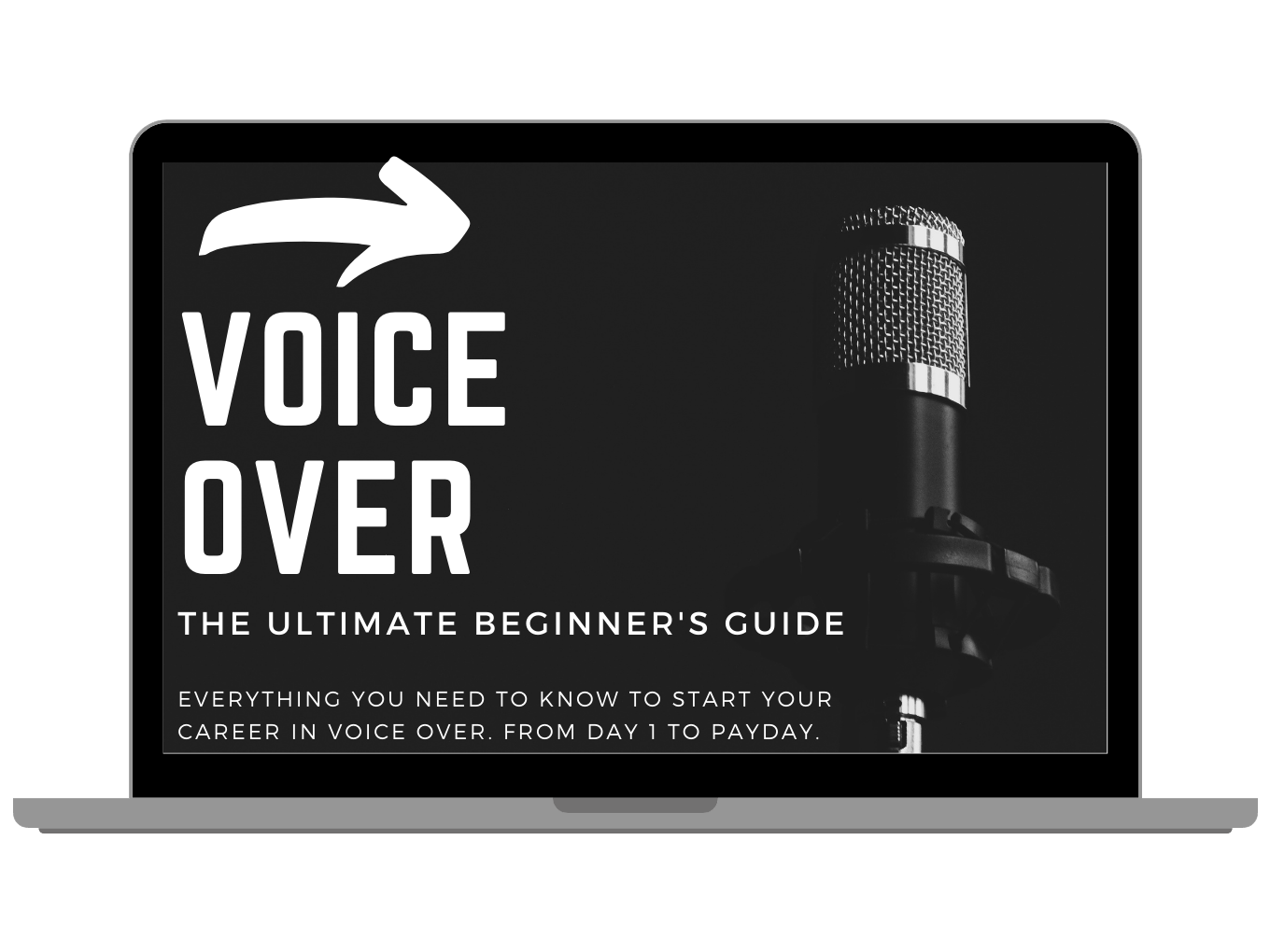 Introducing...
VOICE OVER:
THE ULTIMATE BEGINNER'S GUIDE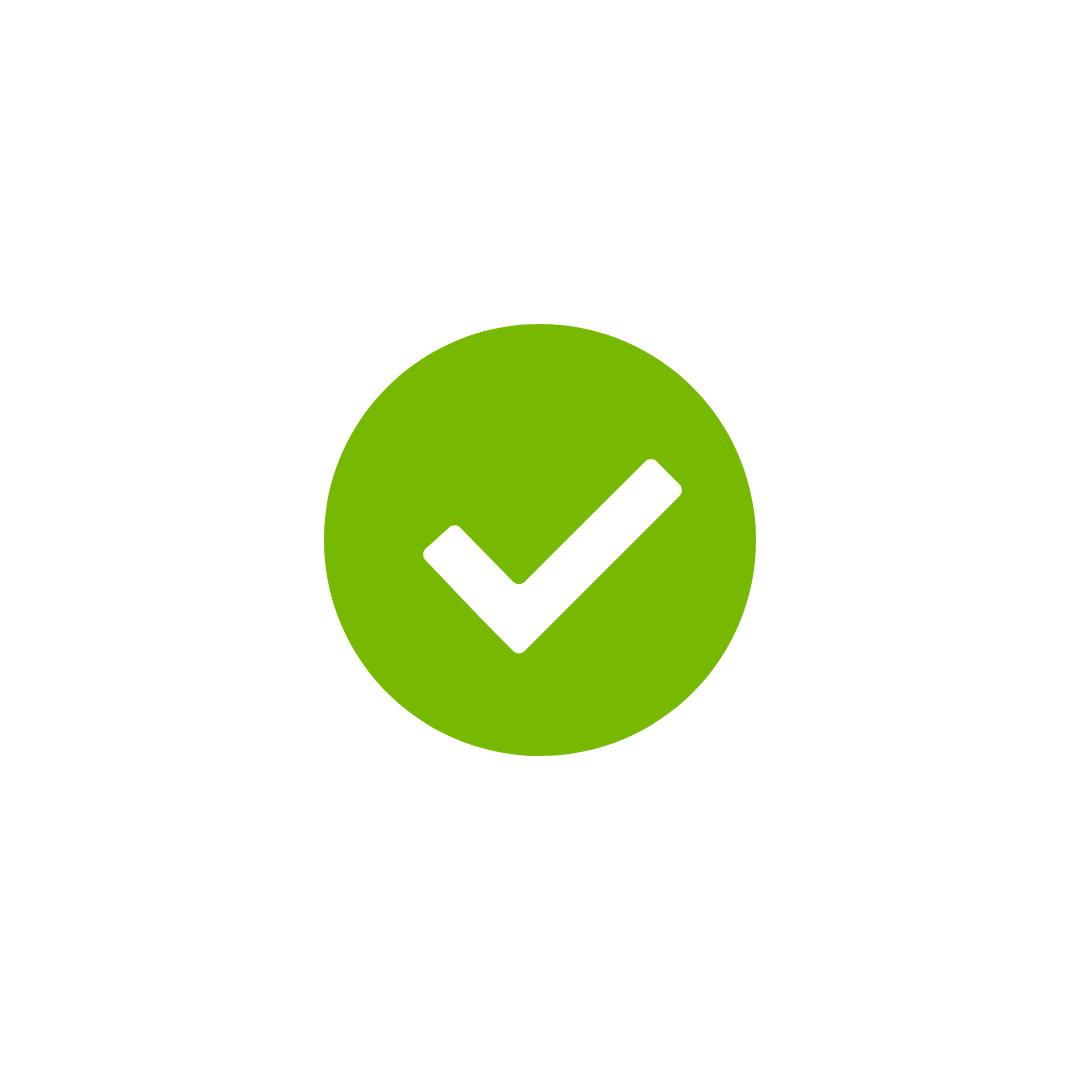 Who is this beginner's guide to voiceover course for?
People who want to get into voiceover, but have no idea where to begin.

People that like learning the ins and outs of something BEFORE they get out there and take their first steps.

Those that like the idea of entering an industry where YOU will take the lead on everything and be in charge of how much or how little time and effort you decide to devote to your efforts.

Busy people! This is a course with video lessons designed to be taken at your own pace.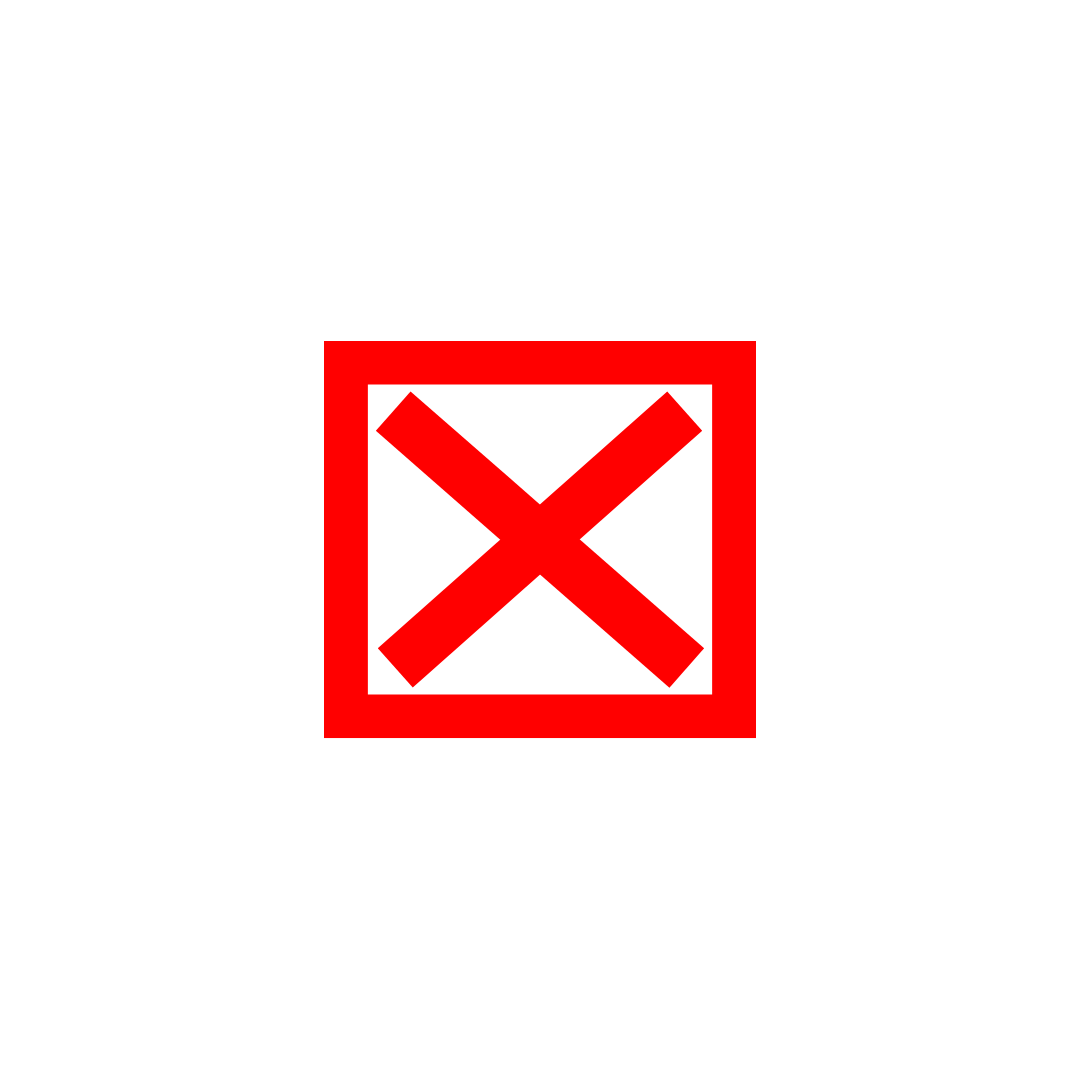 Who is this beginner's guide to voiceover course NOT for?
People looking for an acting class.

Those that have already set up their home studio and are working on VO projects already. (This is a step-by-step class for day-1 beginners - and those who may have done some research but need full context and a plan of action.)

Anyone looking to become a success overnight - or who might be afraid of doing the hard work required to advance their VO career.
If you're still wondering if this course is for you, be sure to deep dive the FAQ section!
FREQUENTLY ASKED QUESTIONS
WHEN DOES THIS COURSE START?
Once you enroll, you have access to all the course materials. You decide when to begin.


DO I HAVE TO COMPLETE THIS COURSE IN A SET AMOUNT OF TIME?
Nope! You can move at your own pace. In fact, I'd recommend you take your time with the lessons - and really digest the information as you formulate your own plan of attack. Some people may benefit from binge watching (and taking notes!) all the way through a first time - and then watching each lesson a second time as you implement the steps for setting up your voice over career. Come back to lessons throughout your journey for things you may want clarification on. Point is: you bought this course. It's yours for as long as the course exists. Watch the lessons as much as you'd like. There are no time limits.


CAN I JUMP AROUND AND WATCH JUST THE LESSONS THAT APPLY TO ME?
I don't recommend it (at least the first time through). This course has been set up as a blueprint. There's a linear flow to it - from day one right here… through your first bookings and beyond. And there are many lessons that are a continuation of the previous lesson. For example, much of what you'll need to know about auditioning from home will be addressed in the 'introduction to castings' and the 'how to audition in person' sections. If you go directly to 'how to audition from home' you won't have the necessary background to really soak it in. The lessons are all building blocks for the next lesson. If you skip around, you'll be missing out on key pieces of the puzzle.


WHAT IF I'M UNHAPPY WITH THE COURSE?
It's important to me that you find value in this course. If you're unsatisfied with your purchase, contact me within the first 14 days of your original purchase date for a refund.


WILL I NEED A MICROPHONE OR OTHER RECORDING EQUIPMENT TO TAKE THIS COURSE?
No. To be successful in voiceover, you'll eventually need to pull the trigger on some gear. However, this course can be taken before you have made those purchases. In fact, there's an entire module devoted to the things you'll eventually need. To take this course all you'll need is a computer or a smartphone to watch the videos.


IS THIS COURSE USEFUL FOR PEOPLE INTERESTED IN ALL GENRES OF VOICEOVER?
I personally do commercial voiceover - and that's what we will primarily focus on in the course. But the course is useful for those interested in breaking into other avenues of VO because the principals and working environment are the same. 


WHAT IF I ONLY WANT TO LEARN ABOUT CHARACTER VOICES AND ANIMATION VOICE ACTING?
This course helps you in getting started in the voiceover industry as a whole. It doesn't focus on animation or building a repertoire of character voices at all. If that's your sole focus, taking an acting class might be a better fit. If you understand that animation and character voiceover is essentially a genre like any other, you may still find this course useful.


IS THIS COURSE GOOD FOR PEOPLE ALREADY AUDITIONING AND WORKING IN THE VOICEOVER INDUSTRY, WHO ARE LOOKING TO TAKE A CLASS AND LEVEL UP THEIR GAME?
Probably not. While there is quite a bit of advanced material in the course, it is ultimately a course for beginners. If you're a voice actor who is already producing good quality audio from a home studio setup, and auditioning for voiceover jobs you tracked down yourself or through an agent, you've probably learned a lot of this the hard way (congrats btw!). Working voice artists looking to work more would probably find greater benefit from taking a marketing course.


CAN I FIND THIS INFORMATION FOR FREE ONLINE?
Hmmmm… Some of it, probably. All of it, no way. There's obviously a lot of great info out there. There are also a lot of half baked ideas and strongly expressed 'opinions' rolling around online. The problem for beginner voice actors is first: finding
good quality, actionable
information. Second: piecing that fragmented info you found on multiple sources together in a cohesive way so you can put it to use in a way that is actually helpful. Third: eliminating all the nonsense and useless noise you'll inevitably encounter from the equation. I understand the lure of free content. However, this is 100% the course I wish I had when I first started out. It would have saved me so much time (and trial and error) that it's actually painful for me to think about!


WILL TAKING THIS COURSE AND STARTING MY CAREER IN VO MEAN I CAN EVENTUALLY QUIT MY JOB AND DO VOICEOVER FULL TIME?
It all depends on you. It also depends on how much and how steadily you eventually end up working in VO (if at all) - and then how comfortable you are with freelance work - and the pitfalls that can arise in having an income that varies from month to month, year to year. For me, voiceover provided a creative outlet and an income source that freed me up from having to report to a 9-5 job that I HATED. That financial freedom then allowed me to devote time to other passion projects, outside VO, that happen to pay the bills as well. Everyone's experience will be different - and I don't want you thinking it's realistic to write your 2-weeks-notice letter at the completion of the course. Don't do that! In the spirit of transparency: I've had some VERY good years in VO. And I've had some years that were pretty *meh* by comparison. A very small percentage of voice actors will make a comfortable six-figure living year after year from voiceover alone. And getting to that point takes diligence, persistence and WORK. However, I know a lot of film actors, jewelry makers, screenwriters, models, bloggers, bar owners and photographers that have parlayed the freedom they have from doing voiceover (both in terms of time and income) into an overall exciting, creative and lucrative life. Your mileage may vary - and I can't promise you success. This course contains tools and insights to help you take your first steps. 
Your Instructor:
Ben Phelps is a voice artist who has been voicing many of the commercials you see on TV and hear on the Radio for over 15 years. His client list includes the likes of Verizon, Mountain Dew Kickstart, CVS, Shell and Toyota - and he does ADR voice matching projects for feature films and HBO series. He is also half of the husband+wife food blogger team behind Pickled Plum. While that may sound somewhat cool, it should be noted that Ben is a total nerd. When he's not working, he's probably reading books, listening to metal, jogging short distances - or, like... taking pictures of his cat or something.